Marco Modeo (alias Mark Mood)

Born in Italy, he studied at the Accademia di Belle Arti (Academy of Fine Arts in Brera) and at the Accademia Disney (Disney's Academy in Milan), where he was conferred the attendance diploma in 1993 by legendary cartoonist Carl Barks of Disney's Studios in Burbank (California).
Among his clients: The Walt Disney Company Italia and International, Egmont Publishing, Eaglemoss International, Hachette Rusconi, De Agostini, Rcs Media Group, Cairo Editore, Hearst Magazines and others.
At the end of 2012 he began collaborating with digital illustrations for the culture insert "La Lettura" ("The Reading", Corriere della Sera's Magazine-Rcs)
At present he's located in Milan working as a freelance illustrator/information designer.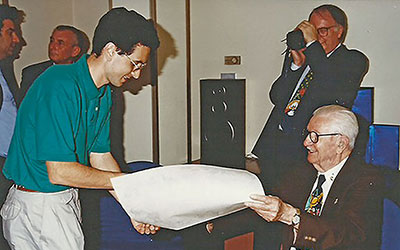 Diploma award ceremony
with Carl Barks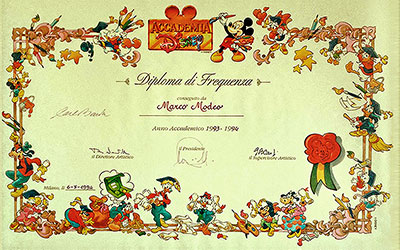 Disney Diploma
of attendance